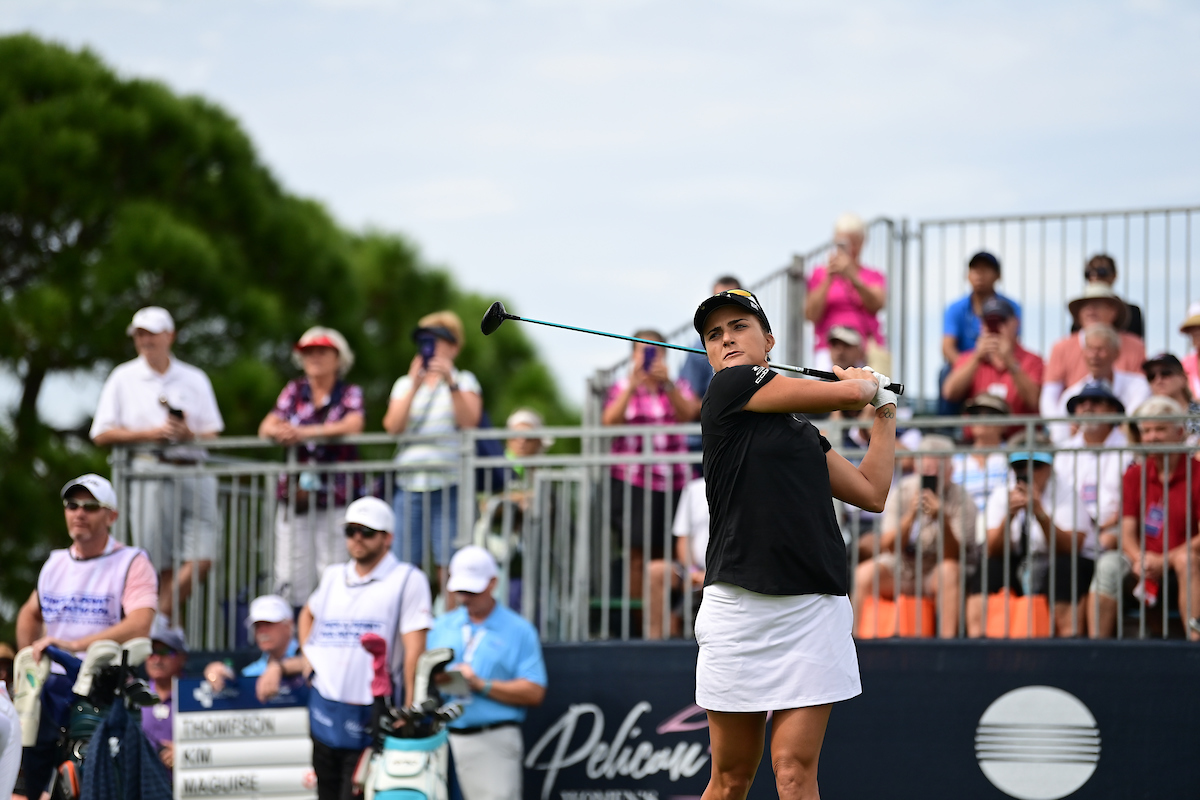 Kupcho, Thompson Tied for 36-Hole Lead at Pelican Golf Club
BELLEAIR, Fla. - Lexi Thompson headed back to the clubhouse at Pelican Golf Club with friend Angel Yin's arm around her shoulders, the two laughing and sharing stories from their second round of the Pelican Women's Championship presented by Konica Minolta and Raymond James. It was that type of afternoon, where smiles won the day for Thompson, who shares the 36-hole lead with Jennifer Kupcho at 11-under par.
"I think overall just going out there and enjoying myself, making sure I stay in the moment, committing to my golf shots," Thompson said after a 6-under 64 on Friday. "I have been working extremely hard on and off the course. Working with Martin Hall quite a bit, putting the work to the test and believing in it."
Kupcho fired a bogey-free 64 as a part of the morning wave and is now unblemished over her last 28 holes. It is the second time in her career—and this season—that Kupcho has held or shared the lead through two rounds, most recently at the Drive On Championship presented by Volvik in March.
The Wake Forest University alumna pointed to the fact she has kept her mind off golf when not in the midst of a tournament and reminiscing on the Solheim Cup as reasons for her success in Belleair, Fla.
"I think I've been distracted from golf ever since Solheim [Cup], moving into a house and trying to plan a wedding," said Kupcho. "It was probably my best ball-striking week [at Solheim Cup] that I've ever had in my life, so definitely gave me confidence.
"On the flight here, I was bored and started looking through photographs. Of course, [Solheim Cup] was probably the nearest memories recently. Brings back good memories."
Rounding out the final grouping of the third round off No. 1 tee at 11:15 a.m. ET tomorrow is Wei-Ling Hsu, a Rolex First-Time Winner at the Pure Silk Championship presented by Visit Williamsburg. She discussed her game, especially the irons, relative to her victory in May, and a new club in the arsenal.
"These two days I have really hit my irons so well, it was so solid. Every ball just right at the pin. I feel it's even better [than my win]," said Hsu, who is one shot back of the lead at -10 following a bogey-free 64. "Especially my drives are really good this week. I took out the TaylorMade SIM and now [playing] with a PING G425. Hit some bombs from the tee to give me shorter irons, like 8-, 9-iron into the green."
Leona Maguire (68), the 18-hole leader, joins Hsu in a share of third, while five players sit in a tie for fifth at 9-under overall. Among that group is Mi Hyang Lee (62), who matched the tournament scoring record on Friday that was set by Maguire yesterday. Tampa resident Brittany Altomare (69) finds herself in a tie for 29th at -4 and St. Petersburg native Brittany Lincicome shot even-par 70 for a share of 46th at -2. A total of 73 players made the cut at even-par 140.